We've already done something
We are developing together with our system
Tretus was created to "watch the guards if they watch" in real time. With increasing requirements, we developed it into a continuous automatic control of patrol service. Today, it is a tool complemented by other services that helps to digitize facility management. Tretus is constantly developing, just like the needs of our clients.
We have the motto "one data, one truth". We believe that transparent communication is the key to better cooperation. Whether across the team or towards the customers.
Digitization, efficient task management and transparent communication will help you save the money that you can use for your growth.
And thanks to our clients





And who is behind it?
Small team with great efficiency


+420 724 144 689

svoboda@tretus.cz
Michael was very keen on computers and technology from a very young age. He graduated from a specialized grammar school in programming in Brno. But he never really sat behind the monitor. He preferred to be with people. Before he joined Tretus team, he worked as a B2B sales manager.
Today he is responsible for sales and development of the Tretus system. If you need anything, he is your man. Michael will be at your service from the first implementation of the Tretus in your company. He will help you with its settings and he will consult with you the need of new functions.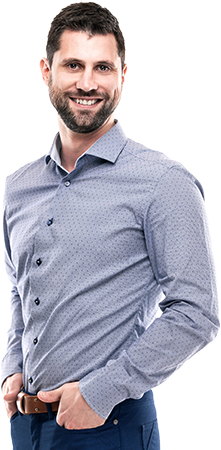 +420 777 586 339

bardyn@tretus.cz
He developed passion for analysing existing and non-existing solutions and building constructions while playing with building kits, but it was the possibilities of computers that absorbed him. When he created his first custom SW for business, his life was resolved.
After studying information technology at Masaryk University, he worked for Siemens, where he participated in the development of the core of new generation telecommunications network. From the tester and the developer, he moved to analysis of requirements of customers, network design and managing of research project.
His experience is now used for creation of Tretus.